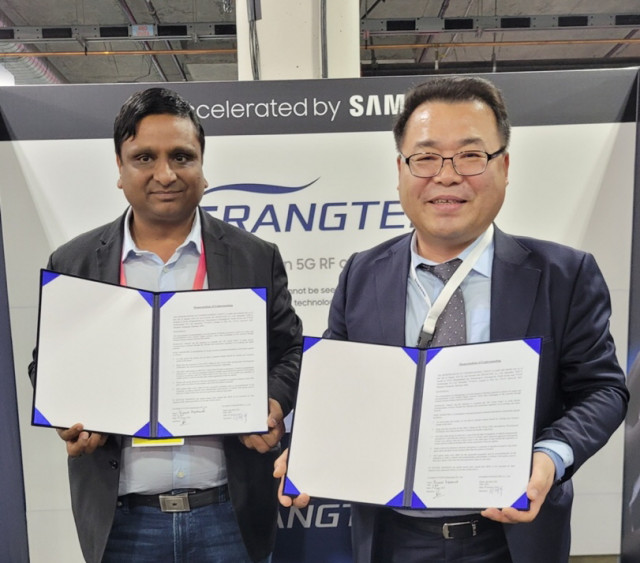 ERANGTEK signed a memorandum of understanding with India's VVDN Technologies for development and production cooperation on the 6th at CES 2023 (From left) Puneet Agarwal, CEO of VVDN, Lee Jae Bok, ERANGTEK CEO.
LAS VEGAS--(뉴스와이어) 2023년 01월 11일 -- ERANGTEK Co., Ltd. (CEO Lee Jae Bok) announced that it will enter the Indian 5G market in earnest with 5G Multiplexer Cavity Filter by signing a memorandum of understanding (MOU) with India's VVDN Technologies for development and production cooperation at CES 2023, the world's largest consumer electronics and information technology exhibition in Las Vegas on the 6th (local time).

When ERANGTEK's 5G Multiplexer Cavity Filter is transferred to India, it is expected to serve as a bridgehead to advance production and technology one step faster while complying with the Indian government's policy of Make In India. India completed the 5G frequency auction in August 2022 to accelerate the commercialization of 5G services, and it is expected to speed up its digital policy through full-scale investment starting this year.

Meanwhile, ERANGTEK has the original technology for preventing frequency interference due to the establishment of public network, technology development and production capabilities. Recently, it has been selected as an IR52 Jang Young-sil Award, patent technology award, green technology and product certification, and world-class products as products of eco-friendly high frequency low loss and low noise RF filter material.

Lee Jae Bok, CEO of ERANGTEK, said, "This agreement is very meaningful because it is expected to expand the 5G Multiplexer Cavity Filter technology to ensure India's 5G mobile communication development and production. Technology and production cooperation between the two companies will contribute to India's development of filter technology."

"Through this agreement, we will make efforts to efficiently utilize the technical know-how, production capacity, and SCM of the two companies and produce successful results," said Puneet Agarwal, VVDN CEO.